Manufacturing Facility & Value Added Features

Manufacturing Facility

In late 1999, MAi moved into its new 60,000 square foot facility in Wylie, Texas, a suburb of Dallas. It is from this facility that hundreds of MAi doors are finish-manufactured and shipped daily. A recent addition of 30,000 square feet to the existing manufacturing plant increased warehousing capability for new and existing inventory and provided space to new pre-finishing facilities. Utilizing the latest in finishing technology and processes, this addition will allow MAi to complete orders in-house, with a goal of exceeding customer expectations and ensuring the highest quality possible.
Manufacturing Facility

Value Added Features

To ensure a high level of customer satisfaction, MAi inspects all source materials upon their arrival at our manufacturing facility. We select matching materials for all elements of each door as needed, sand all surfaces to guarantee uniformity of fit and finish, and glaze glass panels for doors, side lites, and transoms as each style of door may require. When doors are ready for shipment to the customer, they are either cartoned or palleted and shrink-wrapped to guarantee that they will arrive at their destination in perfect condition. MAi ships from inventory as much as possible to provide fast turnaround and unmatched service to its distributors.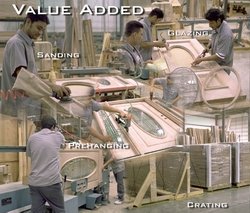 Manufacturing Inspections